Members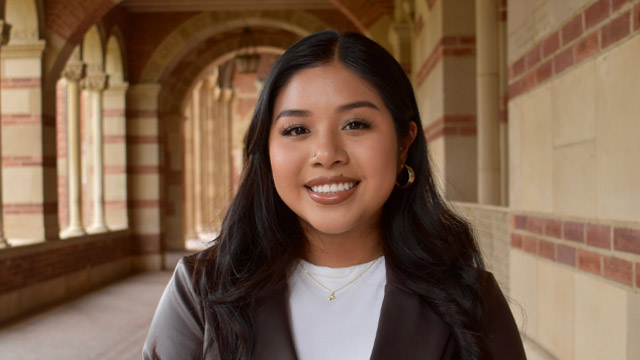 Giselle Melendez
Operations Coordinator
Born and raised in South Central Los Angeles, Giselle currently holds the position of Operations Coordinator at Haven Neighborhood Services. She supports Haven by providing capacity-building in day-to-day comprehensive administrative tasks, coordinating various projects within the nonprofit to ensure projects are completed on schedule, and functioning as a liaison between the executive and other staff members, board members, and donors. She acts as a champion for safeguarding and enhancing economic stability in marginalized communities throughout Los Angeles County that can ameliorate economic crises in low- and moderate-income (LMI) neighborhoods.
Having experienced firsthand the economic challenges faced by low- and moderate-income (LMI) neighborhoods, she has dedicated her time to serving these communities, specifically those that are economically underserved. Her focus extends beyond financial capability work, encompassing various initiatives aimed at improving their well-being. Shortly after graduating from UCLA with a Bachelor's of Arts in Chicano Studies and minors in Biomedical Research and Global Health, Giselle joined the Watts Rising Collaborative in May 2022 as a Housing Access and Anti-Displacement Coordinator under the Mayor's Office of Economic Opportunity and AmeriCorps. She developed weekly programming, coordination, and outreach to host monthly workshops that supported Watts/Century Latino Organization with referrals/light case management coordination in the areas of first-time homebuyer and foreclosure prevention; rental assistance or application support; promoting housing opportunities created by the Jordan Downs redevelopment; eviction defense resources; and financial literacy resources. She also provided project management, strategic planning, and budgeting, as well as capacity building to directly serve residents of Watts. By collaborating with the staff of the Housing Authority of the City of Los Angeles, as well as the WRC Community Advisory Group and Street Team, she conducted extensive outreach to community residents who are primarily low-income and Spanish speaking to connect them with available resources throughout Watts. She advised Watts residents with housing counseling services to more than 50+ clients and facilitated the development of reports to government and collaborative agencies. Giselle also constantly interacted with community leaders by attending and presenting at various community meetings to inform the residents of Watts of upcoming multifaceted workshops.
Giselle maintains the belief that it is our collective social responsibility to enhance the economic quality of life for the most vulnerable populations by delivering effective, strategic, and high-quality services. She will be continuing her education at USC this upcoming Fall 2023 to earn her Masters in Public Administration with hopes of incorporating impactful financial capability, housing, and supportive services that are indispensable for individuals and families with low and moderate incomes (LMI) to attain economic inclusion, mobility, and, ultimately, financial stability.